Name: MR JOYPRAKASH BHUYAN
Designation : ASSOCIATE PROFESSOR
E-Mail: joyprakshbhuyan1234@gmail.com
National Service Scheme (NSS) of Panigaon OPD College
One of the important pillar of the college is the NSS unit which was established in the year 2000 . It has been associated with numerous social programmes. Among those, the most recent ones include the International Yoga Day, World Environment Day, Awareness Campaign on Tobacco Free Educational Institution and Other Tobacco Products Act 2003. Recently, NSS special camp was organised by the NSS unit of Panigaon OPD College from 25/05/22 to 31/05/22. A number of initiatives such as free Health check up and free medicine distribution, AIDS awareness, tree plantation, socio economic survey, an awareness cycle rally on the theme anti-drugs and anti-tobacco were successfully held.
About National Service Scheme (NSS)
The National Service Scheme (NSS) is a Central Sector Scheme of Government of India, Ministry of Youth Affairs & Sports. It provides opportunity to the student youth of 11th & 12th Class of schools at +2 Board level and student youth of Technical Institution, Graduate & Post Graduate at colleges and University level of India to take part in various government led community service activities & programmes.The sole aim of the NSS is to provide hands on experience to young students in delivering community service. Since inception of the NSS in the year 1969, the number of students strength increased from 40,000 to over 3.8 million up to the end of March 2018 students in various universities, colleges and Institutions of higher learning have volunteered to take part in various community service programmes.
The NSS Badge Proud to Serve the Nation

All the youth volunteers who opt to serve the nation through the NSS led community service wear the NSS badge with pride and a sense of responsibility towards helping needy. The Konark wheel in the NSS badge having 8 bars signifies the 24 hours of a the day, reminding the wearer to be ready for the service of the nation round the clock i.e. for 24 hours. Red colour in the badge signifies energy and spirit displayed by the NSS volunteers. The Blue colour signifies the cosmos of which the NSS is a tiny part, ready to contribute its share for the welfare of the mankind.
The motto of National Service Scheme is NOT ME BUT YOU
Benefits of Being a NSS Volunteer
A NSS volunteer who takes part in the community service programme would either be a college level or a senior secondary level student. Being an active member these student volunteers would have the exposure and experience to be the following:
•

an accomplished social leader
•

an efficient administrator
•

a person who understands human nature

National Integration Camp (NIC):

The National Integration Camp (NIC) is organized every year and the duration of each camp is of 7 days with day-night boarding & lodging. These camps are held in different parts of the country. Each camp involves 200 NSS volunteers to undertake the scheduled activities.
Objectives of the National Integration Camp

Make the NSS volunteers aware of the following:
•

Rich cultural diversity of India
•

History of our diversified culture
•

National pride through knowledge about India
•

To integrate the nation through social service

ACTIVITIES UNDER NSS UNIT,
PANIGAON OPD COLLEGE
1st December, 2016: Awarded best Red Ribbon Club to Panigaon OPD College by Assam Aids Control Society and presented by Honorable Education and Health Minister Dr. HimantaBiswaSarmah
18th December, 2016:
A blood Camp organized by BandhanNatyaMandir in collaboration with Red Ribbon Club, Pangigaon OPD College and Lakhimpur Civil Hospital.
Special NSS Camp for Flood Affected People at Amtala
Date: 28thjuly, 2017
Organised By
NSS Cell, Dibrugarh University
In Collaboration with NSS Unit, NL College, Panigaon OPD College and L.T.K College
One day Relief Camp to Flood Affected area at Amtala
Organized By NSS Unit, Panigaon OPD College
Date: 21st July, 2017

RUN FOR NATIONAL INTEGRITY ON THE OCCASION OF 71ST INDEPENDENCE DAY CELEBRATION
DATE: 14TH AUGUST, 2017
24th Sept., 2017: Observed NSS Day at Panigaon OPD College
18th January, 2017: Training Programme on Cashless Transaction UnderVisaka organized by NSS Unit
5th March, 2017: District Level Art Competition organized by NSS Unit, Panigaon OPD College:
18th and 19th May, 2017: 2 Days Orientation Programme for NSS Program Officer at Dibrugarh University
5th June, 2017: Observed World Environment Day
21stJune , 2017: Celebration of 3rd International Yuga Day
1st December, 2017: Observed World Aids Day
11th January, 2018:Swachha Bharat Abhiyan organized by District Legal Service Authority, Lakhimpur in Support with NSS Unit, Panigaon OPD College
12th – 17th March, 2018: NSS Special Camp at MornoiAdarshaGaon
24th – 30th April, 2018: Awareness Programme on MVI Act and Rules organized by the District Legal Service Authority in support with NSS Unit, Panigaon OPD College


5th June, 2018: Observed World Environment Day


21st June, 2018: Observed International Yuga Day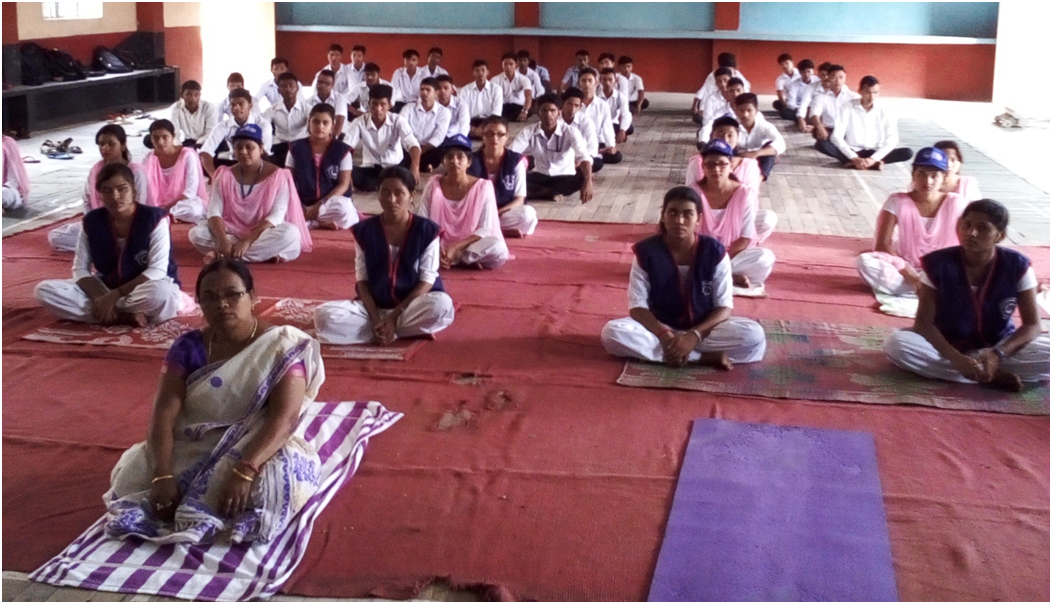 1st August – 15th August, 2018: SwachaPakhwada
24th Sept., 2018: Observed NSS Day:
31st Oct., 2018: Observed RastriyaEkta Divas:
1st December, 2018: Obserbed World Aids Day:
17th – 18th December, 2018: JoyprakashBhuyan, Program Officer of NSS Unit has participated in State Level Symposium for strengthening of Protection and Promotion of Child Rights through engagement of volunteers in Assam, organized by Assam State Commission for protection of Child Rights:
19th January, 2019: National Youth Parliament Festival on the theme of " ArrestingCoruption through Zero tolerance Policy", organized by NSS Unit, Lakhimpur Girls College. 8 Nos. of NSS Volunteers from our college participated.
8th March, 2019: Oberved World Women's Day
31st May, 2019: Observed World No Tobacco Day: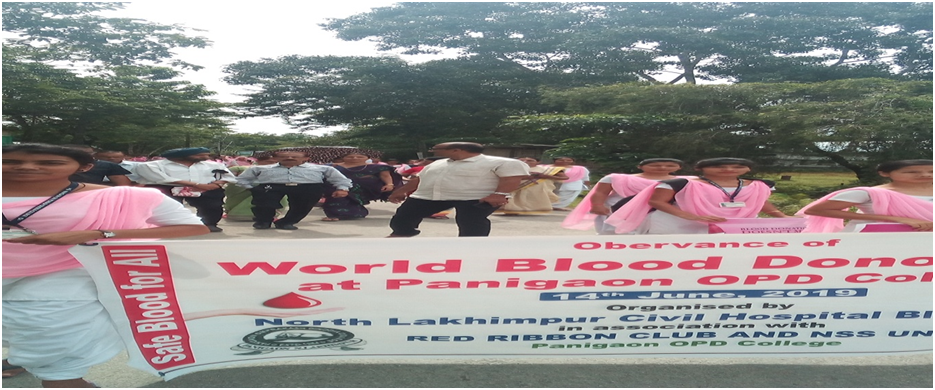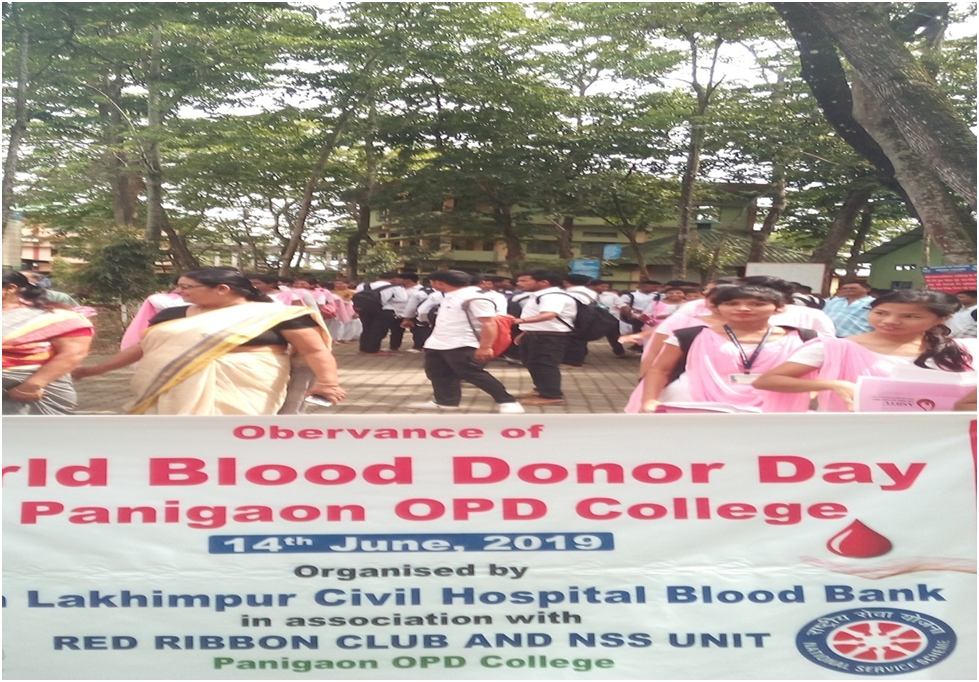 21st June, 2019: Observed International Yoga Day
15th August, 2019: Observed SwacchtaPakhwada:
19th August, 2019: SeujDharitriAbhiyan:
24th Sept, 2019: Observed NSS Day:
1stDecember, 2019: World Aids Day:
18th January, 2020: FIT INDIA WALKATHAN( 3 KM)
5th June, 2020: Observed World Environment Day
24th Sept., 2020: Observed NSS Day
31st OCT., 2020: Observed RastriyaEkta Divas:
8th March, 2021: Observed World Women Day:
12th March, 2021: observed AzadikaAmrutMohotsav. A special talk on DandiYatra by Dr. Rabin Saikia
16th March, 2021: Voters Awareness Abhiyan at Panigaon Area
21st June, 2021: Observed International Yoga Divas
5th June, 2021: Observed World environment Day
22nd August, 2021: A series of Virtual Awareness Programme on Tobacco Free Educational Instutions and Cigrattee and other Tobacco product Act-2003 organised by District Tobacco Control Cell, Lakhimpur and Assam Cancer Care Foundation in Association with NSS Unit Panigaon OPD College and North Lakhimpur College
24th Sept, 2021: Observed NSS Day
30thNovemberr, 2021: NSS volunteers participated in Training Program of Youth on Clean Village and Green Village Organised by Nehru Yuva Kendra, North Lakhimpur in Collaboration with UdayanYuvakSangha at LakhimpurKendriya College

1st December, 2021: Observed World Aids Day:
22nd December, 2021: Aids Awareness Camp organized by ICTC, PPTCT, STI, LakhimpurMediacl hospital in Association with Red Ribbon Club, Panigaon OPD College
24th January, 2022: National Girls Child Day
26th April- 2 May, 2022: Holding of National Integration Camp at Assam University, Silcar, AnupKalita, NSS Volunteer of Panigaon OPD College has participated in this camp
27th and 28th May, 2022: Training Programme on Capacity Building and Leadership Development organized by Dibrugarh University NSS Unit. 4 nos. of NSS Volunteers participated
13th and 14thjune, 2022: Free AADHAR Enrollment programme organize by NSS Unit and IQAC, in collaboration with AadharSeva Kendra, Lakhimpur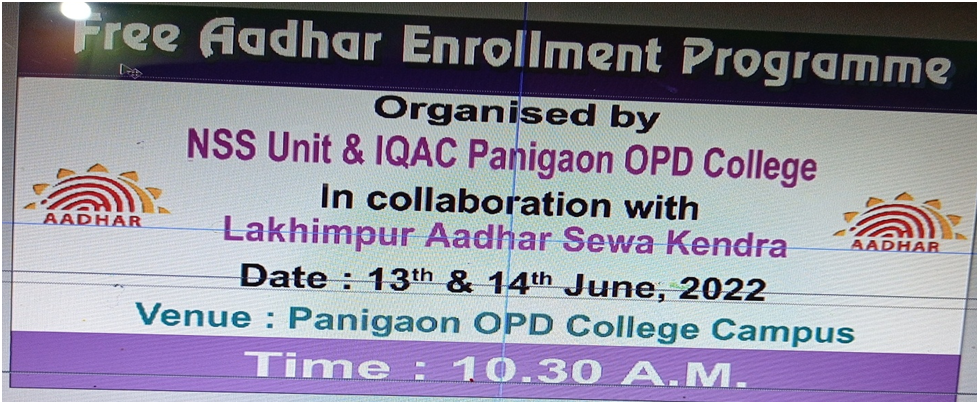 21st June, 2022: Observed 8th International Yoga Day:
2nd August, 2022: Cleanliness Programme under NSS Unit ,Panigaon OPD College
24th Sept., 2022: Observed NSS Day
29th Sept., 2022: Cleanliness drive as part of Swacchata India campaign programme at Panigaon OPD College, Panigaon P.S, Veterinary Campus, College tiniali etc.,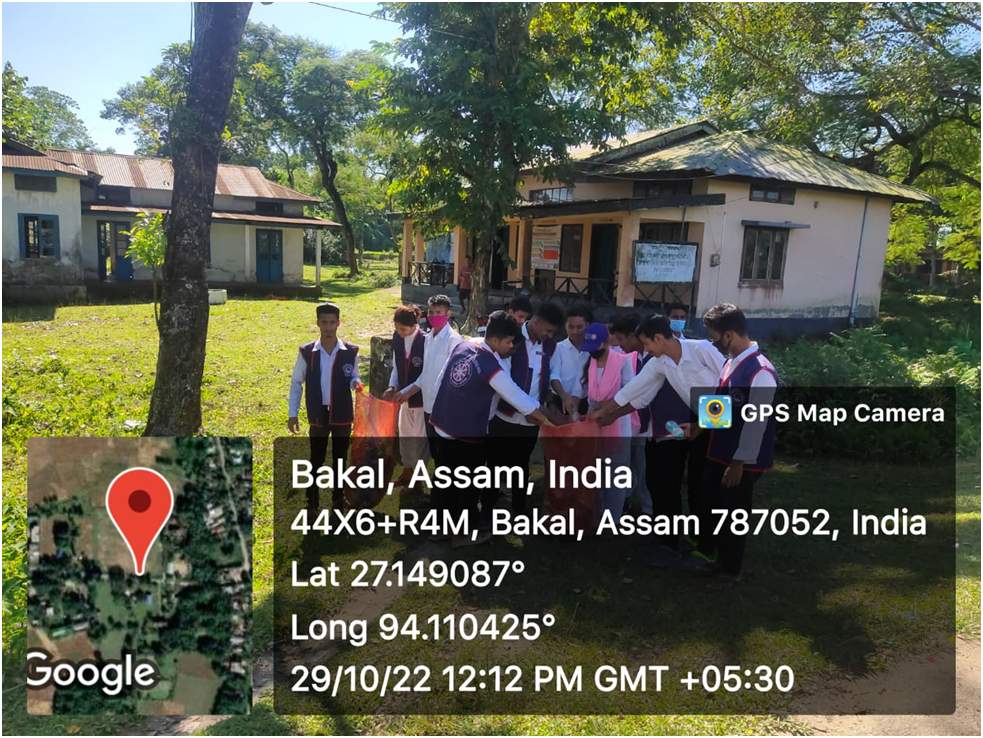 19th November, 2022: Essay Competition on Lachit Divas, organized By NSS unit and Department of History
20th Nov., 2022: Plantation Programme on the occation of Lachit Divas, organized by NSS unit and Yuva Tourism Club
1stDeceber, 2022: Observed World Aids Day
7th December, 2022:16 days Campaign on Violance against women and girls 2022, engaging with youth for gender equality, district level programme with boys and girls organized by women and child development department, Govt. of assam, technical Support – State Hub for Empowerment of women (SHEW) Assam in collaboration with Regional Director, NSS, North East- participated NSS Program Officer JoyprakashBhuyan at North Lakhimpur on 9th December 10 Student NSS Volunteer participated at the rally against violence against women and girls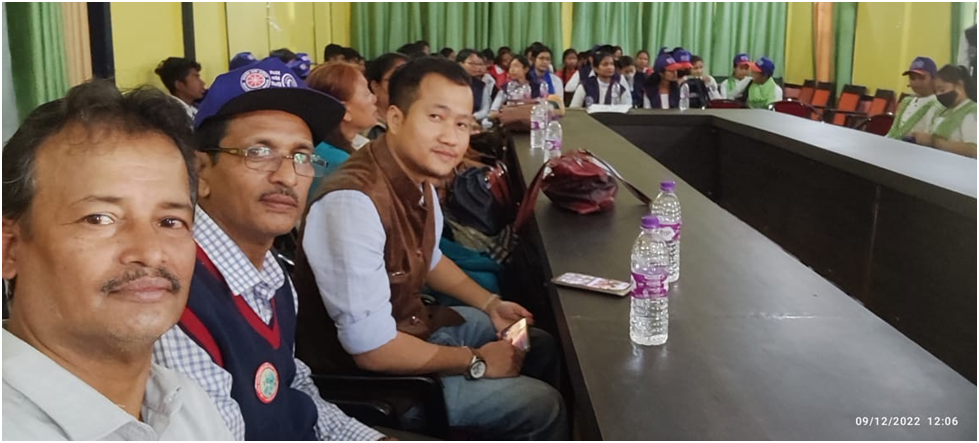 26th to 4th March, 2023: National Integration Camp at ChaudharyCharan Singh Hariyana Agricultural University, NSS. 2 Nos. of Volunteers ( Biraj Bora and Banashrekalita) from our college represented the state NSS team. Miss banashreeKalita awarded silver medal in Solo Sangeet Competition in this program

15th March, 2023: Sharam Day By NSS volunteers at Garden